Hyundai Santa Fe: Panorama Sunroof / Rear Glass. Repair procedures
•

In order to remove rear glass, use tools as follows shown in the picture.

[Tools block diagram]

① Square wire

② Insert type wire grip

[Tools assembly diagram]
| | |
| --- | --- |
| • | Tighten square wire ① inserting it in the hole of Insert type wire grip ② |
1.

Remove the movable glass.

(Refer to Panorama Sunroof - "Movable Glass")
2.

Remove the side molding.

(Refer to Body Side Molding - " Roof Side Molding")
3.

Cut sealant from front pulling square wire (A) from left to right.

| | |
| --- | --- |
| • | Wear gloves not to get hurt in the hand. |

| | |
| --- | --- |
| • | Be careful not to be burned in the hand by too much heat using wire. |

| | |
| --- | --- |
| • | Work carefully because wire can be cut. |

| | |
| --- | --- |
| • | Give attention not to damage body. |
| | |
| --- | --- |
| 4. | Carefully remove rear glass (A) not to be damaged. |
•

In order to install rear glass, use tools as follows as shown in the picture.

[Tools block diagram]

① Sealant nozzle

② Adhesive sealant only for glass

③ Sealant gun

④ Primer

⑤ Primer application brush
1.

Cut remaining sealant (A) around body panel using knife blade.

| | |
| --- | --- |
| • | When cutting sealant around body panel, leave 2 mm thick from adhesive spot. |

| | |
| --- | --- |
| • | Give attention not to damage painted area in the body. |

| | |
| --- | --- |
| • | If found damaged area, apply protective paint or rust inhibitor. |
| | |
| --- | --- |
| 2. | Clean edges of body panel and rear glass thoroughly with alcohol or air gun. |
3.

Apply sealant (B) arround body panel (A) using sealant gun.

| | |
| --- | --- |
| • | When applying sealant using sealant gun avoid to cut off and water leak. |
| | |
| --- | --- |
| 4. | Install the rear glass (A) on the body panel. |
| | |
| --- | --- |
| 5. | Install the rear glass (A) completely after checking step and gap. |
6.

Tape around rear glass not to make floating area.

| | |
| --- | --- |
| • | Clean thoroughly with alcohol or cleaner when sealant is over applied and seen from outside of the body. |

| | |
| --- | --- |
| • | After rear glass is installed vehicle should be parked on flat place 4 hours at least. |

| | |
| --- | --- |
| • | If vehicle should be run, drive slowly within 8 hours at least. |

| | |
| --- | --- |
| • | Alert the driver to avoid driving the car aggressively for 2-3 days, or avoid driving in on irregular road surfaces. |
7.

Install the movable glass.

(Refer to Panorama Sunroof - "Movable Glass")
Removal • In order to remove the front glass, use the tools shown in the following figure: [Tooling Diagram] ① Square wire ② Insert-type wire grip [Tooling Assembly Diagram] • Insert and affix square wire ① into the insert hole of the wire grip ②...
Other information:
Four Wheel Drive (4WD) delivers engine power to front and rear wheels for maximum traction. 4WD is useful when extra traction is required, such as when driving on, muddy, wet, or snow-covered roads. WARNING To reduce the risk of SERIOUS INJURY or DEATH: Do not drive in conditions that exceed the vehicles intended design such as challenging off-road conditions...
Towing service [A] : Dollies If emergency towing is necessary, we recommend having it done by an authorized HYUNDAI dealer or a commercial tow-truck service. Proper lifting and towing procedures are necessary to prevent damage to the vehicle. The use of wheel dollies or flatbed is recommended...
Categories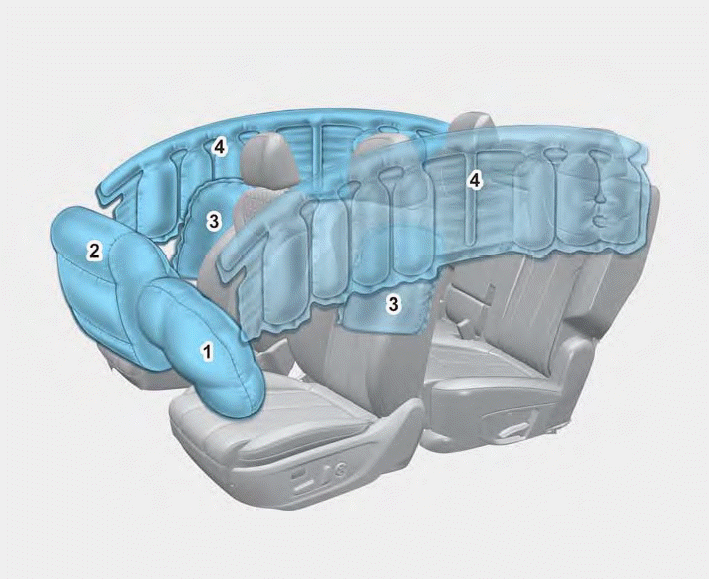 1. Driver's front air bag
2. Passenger's front air bag
3. Side air bag
4. Curtain air bag
The vehicles are equipped with a Supplemental Air Bag System for the driver's seat and front passenger's seats.
The front air bags are designed to supplement the three-point seat belts. For these air bags to provide protection, the seat belts must be worn at all times when driving.