Hyundai Santa Fe: Integrated memory system / Recalling memory positions
1. Shift to P (Park) while the Engine Start/Stop button is in the ON position.
2. Press the desired memory button (1 or 2). The system will beep once, and then the driver's seat position, side view mirror position, steering wheel position, instrument panel illumination intensity and head-up display height/ brightness will automatically adjust to the stored positions.
3. 'Driver 1 (or 2) settings applied' will appear on the cluster LCD display.
Information
If you press the SET button or the corresponding button which the setting is being recalled, the setting will temporarily deactivate. If you press the other buttons, the setting of the pressed button will activate. For example, if you press the SET button or number 1 button with the number 1 setting in operation, the setting will temporarily deactivate. If you press the number 2 button, the number 2 setting will activate.
If you adjust the seat, rearview mirror, steering wheel, instrument panel illumination or head-up display while recalling the stored positions, the preset settings will become ineffective.
Categories
Speedometer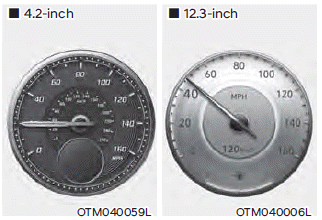 The speedometer indicates the speed of the vehicle and is calibrated in miles per hour (MPH) and/or kilometers per hour (km/h).
Tachometer