Hyundai Santa Fe: Trailer towing / Maintenance when towing a trailer
Your vehicle will need service more often when you regularly pull a trailer. Important items to pay particular attention to include engine oil, transmission fluid, axle lubricant and cooling system fluid. Brake condition is another important item to frequently check. If you're trailering, it's a good idea to review these items before you start your trip. Don't forget to also maintain your trailer and hitch. Follow the maintenance schedule that accompanied your trailer and check it periodically. Preferably, conduct the check at the start of each day's driving. Most importantly, all hitch nuts and bolts should be tight.
NOTICE
To prevent vehicle damage:
Due to higher load during trailer usage, overheating might occur on hot days or during uphill driving. If the coolant gauge indicates over-heating, switch off the air conditioner and stop the vehicle in a safe area to cool down the engine.
Do not switch off the engine while the coolant gauge indicates overheating. (Keep the engine idle to cool down the engine)
When towing check transmission fluid more frequently.
If your vehicle is not equipped with an air conditioner, you should install a condenser fan to improve engine performance when towing a trailer.
Towing a trailer requires a certain amount of experience. Before setting out for the open road, you must get to know your trailer. Acquaint yourself with the feel of handling and braking with the added weight of the trailer...
Two labels on your driver's door sill show how much weight your vehicle was designed to carry: the Tire and Loading Information Label and the Certification Label...
Categories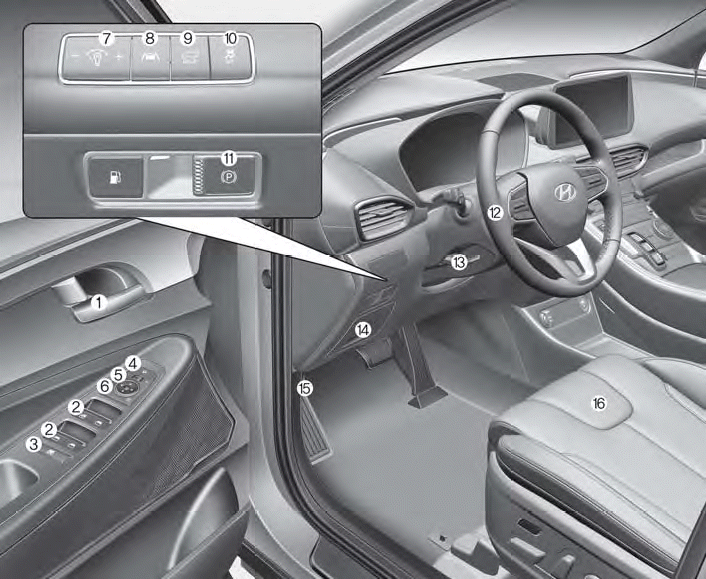 1. Inside door handle
2. Power window switches
3. Power window lock button/Electronic child safety lock button
4. Side view mirror folding button
5. Side view mirror control switch
6. Central door lock switch
7. Instrument panel illumination control switch